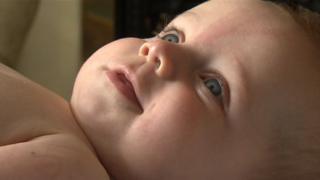 The parents of a baby boy who needs life-saving heart surgery in the US say it is a "massive relief" the NHS has agreed to fund the treatment.
Six-month-old Oliver Cameron was born with a rare heart condition, prompting his family to try to raise the £150,000 needed to be operated on in Boston.
However, the NHS said on Tuesday it would pay for the surgery.
His parents said they had previously been told it was "highly unlikely" they would receive NHS funding.
Oliver's condition – cardiac fibroma – causes his pulse to race dangerously fast. The number of patients in England with a diagnosis is estimated to be in single figures.
Specialists in Southampton said removing the tumour would be "extremely high risk" because there was limited experience in treating his condition in the UK.
Lydia and Tim Cameron, from Wantage in Oxfordshire, said they were advised to start a campaign to help their son as it was rare for the NHS to finance overseas treatment.
"We were also made aware that a previous application for NHS funding made by Oliver's consultant had been refused," the couple said in a statement on their online fundraising page.
"It appears due to generous public support, our publicity through the media and the persistent support of Oliver's consultant that this change of decision has been confirmed."
Doctors had previously advised the surgery should be undertaken after his first birthday in January but, if his condition worsened, he may require the operation immediately.
A statement from NHS England said it had "agreed to fund Oliver's treatment abroad" because there was "not currently a surgical service in the UK with experience of treating this exceptionally rare condition".
The NHS said it was also discussing whether a UK surgeon might accompany Oliver to Boston to learn from the surgeons in the US so the innovative surgery could "potentially be offered in the UK in future".