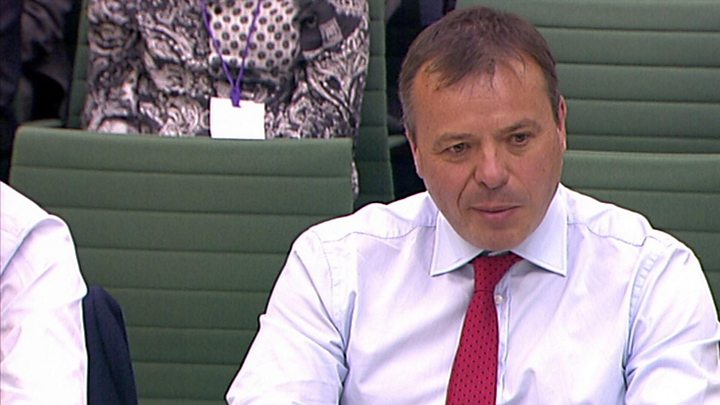 Arron Banks, who helped fund the Leave.EU Brexit campaign, has told MPs there is "no evidence" he was involved in a conspiracy with Russian officials.
He met Russia's UK ambassador three times in 2015 and 2016, discussing Brexit and Donald Trump's election.
But he told the Commons media committee there was no substance to media claims of a conspiracy.
His colleague Andy Wigmore kicked off the session by calling on the committee's chairman to stand aside.
Mr Wigmore, who was Leave.EU's communications director, said Tory MP Damian Collins should excuse himself from the evidence session because he accepted hospitality from "Putin's number one man in the United Kingdom" and might be "conflicted".
Mr Collins recorded a trip to Chelsea Football Club, owned by Russian oligarch Roman Abramovich, on his register of member's interests.
He called the suggestion a "nice try" adding "you might have better intelligence than me… I didn't know that Roman Abramovich was Putin's number one man in London".
He said "no inducements or offers, no shares in goldmines" came out of his visit to Chelsea v Crystal Palace.
"No honey traps?" asked Mr Wigmore.
"Chelsea won 2-1, that was the extent of the entertainment," said the committee chairman.
Mr Banks then went on to attack the credibility of Brittany Kaiser and Chris Wylie, whistleblowers who had previously appeared before the committee about Cambridge Analytica.
Referring to press reports of his meetings with Russian officials, he said journalists assumed "there must be a conspiracy" but "there has been no definitive evidence of anything".
He was then quizzed about Leave.EU's alleged use of "fake news" ahead of the 2016 EU referendum.
"We were a disruptive campaign and we were certainly not above leading journalists up the garden path," he told the MPs, but then said Parliament was "the biggest source of fake news".
Mr Wigmore described himself as an "agent provocateur," adding: "We were running a campaign deliberately aimed at making fun of people."
On Sunday, it emerged that Mr Banks had had two more meetings with the Russian ambassador Alexander Yakovenko than he had previously disclosed in his book on the referendum battle, The Bad Boys of Brexit.
The last of these was in November 2016, three days after Mr Banks, Mr Wigmore and the former UKIP leader Nigel Farage met Mr Trump in New York following his election victory.
According to details of emails reported by the Sunday Times and the Observer, Mr Banks and Mr Wigmore also discussed potential business opportunities in Russia including a proposal involving six gold mines.
M Banks and Mr Wigmore spoke to Mr Farage on his weekly radio show on LBC, where they told him that the allegations against them were part of a political witch-hunt directed against prominent Brexit supporters.
Mr Banks, whose wife is Russian, said opponents of Brexit and Mr Trump had seized on claims of Russian interference as an explanation for their defeats, suggesting several MPs had used the ancient right of parliamentary privilege to accuse Leave.EU in the House of Commons.
"This whole fake news narrative stated to roll from it. There hadn't been a Russian witch-hunt (before). It had not been mentioned. It was when Trump won, there had to be reason he won and Brexit had happened."
Mr Wigmore said it was Mr Yakovenko's job to stay in touch with British politicians and claimed that only two days before their last meeting with him, the Russian ambassador had met Chancellor Philip Hammond.
As they were not MPs, he said he and Mr Banks were not required to officially record who they met but he said he would give MPs details of all their meetings, including with CIA officers in the US embassy in London.
Asked if he believed there was any attempt by Russia to influence the outcome of the 2016 vote, Mr Banks said it was "possible" but he believed it was confined to a few hackers and computer bots at a "low level".
Leave.EU was fined £70,000 by the Electoral Commission earlier this year for breaches of election law in the Brexit referendum.
The watchdog said the group – which was separate from the official pro-Brexit group Vote Leave – failed to report "at least" £77,380 it spent. Mr Banks has said he will appeal against the ruling.