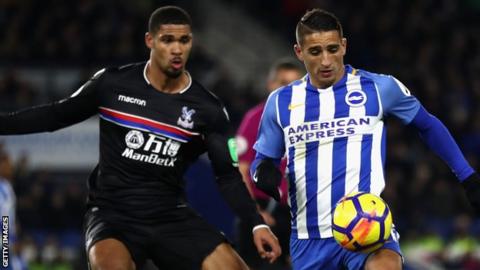 Brighton's FA Cup third-round meeting with Crystal Palace will be the first competitive club match in England in which VAR (Video Assistant Referee) technology is used.
The Football Association said in March that it would trial VAR in the FA Cup.
Tottenham's home tie against AFC Wimbledon is also being considered as a possible test of the system.
For the first time since 2005, a Manchester United match in the FA Cup will not be shown live on television.
The Red Devils, who were last passed over by broadcasters as one of the televised picks when they met Exeter at Old Trafford 12 years ago, play Derby County at home.
The Merseyside derby meeting between Liverpool and Everton at Anfield will be live on BBC One on Friday, 5 January, with kick-off at 19:55 GMT.
Premier League Leicester's trip to either Hereford or Fleetwood will be live on BBC One on Saturday, 6 January with kick-off at 12:45 GMT.
West Ham will get their FA Cup campaign under way at 14:00 GMT away to Shrewsbury Town on Sunday, 7 January on the same channel.
BBC One Wales will show Newport County's home tie against Leeds on Sunday.
VAR technology was first deployed in an official match in the United Kingdom for England's goalless draw in a friendly against Germany in November.
The system has been tested around the world since the International Football Association Board approved a two-year trial in 2016.
Since being used in the Club World Cup in December of that year it was also been seen in domestic competitions such as the Bundesliga, Serie A and Major League Soccer.
BBC Coverage
Friday 5 January:
Liverpool v Everton, BBC One, kick-off 19:55 GMT.
Saturday 6 January
Hereford/Fleetwood v Leicester, BBC One, 12:45 GMT.
Sunday 7 January
Newport v Leeds, BBC One Wales, 12:00 GMT
Shrewsbury v West Ham, BBC One, 14:00 GMT