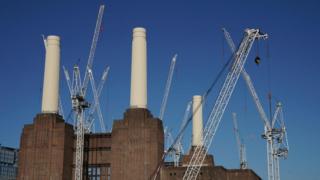 The troubled government contractor Carillion has held talks with its creditor banks this weekend and further meetings are planned for Monday, the BBC understands.
The construction firm owes £900m to RBS, Barclays, HSBC, Lloyds and Santander.
The banks may be able to show Carillion more leniency if the government is able to do its part, according to sources.
The firm's future is also being discussed by government officials.
Carillion is involved in major public projects such as the HS2 high-speed rail line, as well as managing schools and prisons.
How exactly the banks want the government to intervene is unclear.
They could want the government to offer some guarantees in case Carillion cannot pay back its debts.
Or they may want the government to take some of Carillion's key projects back into the public sector.
HS2 Building part of the high-speed rail line between London, Birmingham, Leeds and Manchester

MoD homes Maintains 50,000 homes for the Ministry of Defence

Schools Manages nearly 900 buildings nationwide

Network Rail Second largest supplier of maintenance services

Prisons Holds £200m in prison contracts
The TUC has called on the government to "step in" to "guarantee jobs and services".
Deputy general secretary Paul Nowak said: "Tens of thousands of jobs are now at risk, along with vital public services and major infrastructure projects across the country."
New Tory party chairman Brandon Lewis told the BBC the government was keeping "a very close eye on this".
Mr Lewis told the BBC's Andrew Marr Show that the government was "making sure all plans and contingency plans are in place".
But he refused to be drawn on whether the government would bail Carillion out.
"It's a very commercially sensitive situation so I wouldn't comment further than to say I would hope to see that the working capital that they need will be there working with their partners," he said.
Labour peer Lord Adonis tweeted that the government has "got questions to answer about propping up Carillion with contracts long after its problems clear. Looks like another Grayling bailout!"
Last summer Transport Secretary Chris Grayling awarded Carillion part of the contract to build HS2, a week after the company had issued a profits warning and its chief executive had departed.
Liberal Democrat leader Sir Vince Cable has urged the government not to agree to a taxpayer-funded bailout for Carillion.
Alastair Stewart, a construction and property analyst at Stockdale Securities, said none of the solutions involving the government were "particularly palatable".
"The biggest intervention they could make is actually take a stake in the company as part of raising a large amount of capital, but they'll look back and look at the background of Lloyds and RBS," he said.
Share price plummeted
Carillion has debts of £1.5bn, including a £587m pension shortfall.
The UK's second-largest construction company employs 43,000 people worldwide, with about 20,000 of them in the UK.
It specialises in construction, as well as facilities management and ongoing maintenance.
As recently as 2016 it had sales of £5.2bn and until July 2017 its market capitalisation was close to £1bn.
Since then, its share price has plummeted and it is now worth just £61m.
Its problems stem in part from a string of risky contracts which have proved unprofitable.
It also faced payment delays in the Middle East that hit its accounts.
It has worked on high-profile projects, including the Battersea Power station redevelopment and the Anfield Stadium expansion.
It is also the second largest supplier of maintenance services to Network Rail and maintains 50,000 homes for the Ministry of Defence, manages nearly 900 schools and manages roads and prisons.
The concern is that if it were to collapse these key public sector services could suffer a lot of disruption.