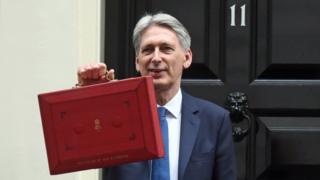 The next Budget will be held on Wednesday 22 November, Chancellor of the Exchequer Philip Hammond has said.
It will be the first Budget since the Conservatives lost their majority in the House of Commons in the snap election in June.
Mr Hammond delivered another Budget earlier this year in the spring.
But he has previously indicated that the main date for the annual speech, which outlines fiscal forecasts and tax changes, will move to the autumn.
The chancellor said the Budget was an opportunity for the government to "set out our thinking on how to keep the economy strong and resilient and fair".
The government moved on public sector pay on Tuesday, announcing pay rises for police and prison officers which breach the current cap.
Downing Street also signalled the end of the 1% pay cap for other public sector workers, saying they recognised the need for more flexibility in future.