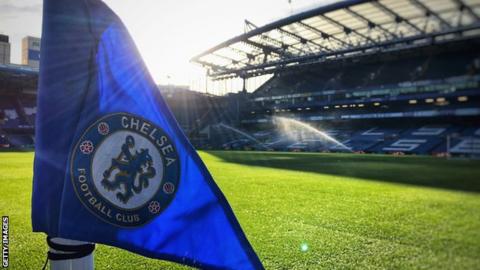 Chelsea are investigating allegations of racism made against two ex-coaches by three former youth team players.
According to the Guardian, former youth team coaches Graham Rix and Gwyn Williams allegedly racially abused the black players during the 1990s.
Williams and Rix denied "all and any allegations of racial or other abuse" in a statement from their lawyers.
In their own statement, Chelsea said they are taking the claims "extremely seriously".
It added: "We are absolutely determined to do the right thing, to fully support those affected, assist the authorities and support their investigations."
The statement was read out by Chelsea's director of communications, Steve Atkins, in Blues manager Antonio Conte's news conference previewing Saturday's match at home to Leicester.
What has been alleged?
The Guardian claims police decided not to take any action after concluding an investigation, but that the Football Association is also investigating and has interviewed two of the players.
It also includes testimony of the unnamed alleged victims, who are reported to be taking legal action against Chelsea.
According to the article, the two coaches allegedly abused the players physically, emotionally and verbally consistently over a number of years.
The testimony includes allegations that:
Rix threw a cup of hot coffee in the face of one of the players;
One of the alleged victims was left with a bloody nose after Rix threw a football at him;
Williams and Rix consistently addressed the alleged victims using strong racial slurs.
Former England and Arsenal midfielder Rix, 60, joined the Stamford Bridge club in 1993 and left in 2000, a year after being jailed for having sex with an underage girl.
Williams, 68, joined Chelsea in 1979 as youth development officer. He left in 2006, having gone on to work as assistant manager under former boss Claudio Ranieri. He joined Leeds as technical director in the same year but was dismissed in 2013 after sending an "obscene" email containing pornographic images to work colleagues.
Williams and Rix's joint statement says the pair cooperated with "a thorough investigation by specialist officers of the Metropolitan Police Service" which "did not consider there was sufficient evidence even to report it to the Crown Prosecution Service".
Their lawyers' statement added: "The allegations in the Guardian newspaper are contained, as we understand it, within correspondence sent to Chelsea Football Club. That correspondence has not been seen by our clients or by us.
"No correspondence has been sent to our clients or us by these individuals or those representing them. We will of course deal with any allegations if made directly to our clients. Our clients are cooperating fully with the FA in this matter."