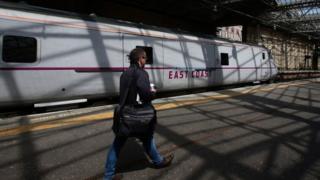 Rail services on East Coast Main Line are being brought back under UK government control.
Transport Secretary Chris Grayling told parliament that taking control would provide the smoothest transition to a operation.
The loss-making service is being renamed London and North Eastern Railway (LNER).
It is the third time in a decade that the government has called a halt to the East Coast franchise.
Mr Grayling told parliament that after two months of analysis he had concluded that taking back control would provide the smoothest possible transition to a new operation.
"I plan to use a period of Operator of Last Resort control to shape the new partnership," said Mr Grayling.
"The team that's been working for me since last autumn to form the Operator of Last Resort… and will take immediate control of passenger services.
"They will then begin the task of working with Network Rail to bring together the teams operating the track and trains on the LNER network."
Reputational price
Mr Grayling told parliament that the firms operating the franchise "will have lost nearly £200m", but that this had not been a loss to taxpayers "at this time".
He said he has received "official advice" that Virgin and Stagecoach should be allowed to continue bidding for future rail franchises.
After looking into problems on the service, Mr Grayling said he was advised "that there is no suggestion of either malpractice or malicious intent in what has happened".
He added that the firms have paid a "high financial and reputational price" in relation to the East Coast route.
Stagecoach, which has operated the franchise with Virgin Trains since 2015, said the companies had been negotiating a new contract with the Department for Transport.
But the company said it now understood that Mr Grayling was "no longer considering" Virgin and Stagecoach for the deal.