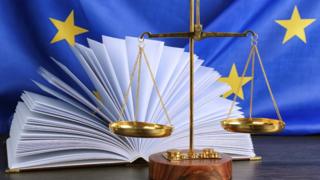 EU citizens who become British do not lose the right to bring a foreign-born spouse to the UK, the European Court of Justice has ruled.
London's High Court asked the judges for clarification of how EU law applied to a case brought by an Algerian man living in the UK with his wife.
UK authorities were trying to deport the man, whose wife had dual Spanish and British nationality.
The judges said the man had a "derived" right of residence through his wife.
The judges ruled that although the woman had become a British national, as an EU citizen she still enjoyed the right, under EU law, to a family life, and specifically, to have her husband live with her even if he was from a third country.
BBC Europe correspondent Damian Grammaticas says the ruling only applies to European citizens who have exercised their right to move within the EU and have family rights linked to that move.
How it might affect EU citizens living in the UK after Brexit – and their ability to have foreign-born spouses live with them – is not yet clear, our correspondent added.
Perla Nerea García Ormazabal, who became a British citizen in 2009, married Toufik Lounes in 2014.
Mr Lounes had entered the UK in 2010 on a six-month visitor visa and then overstayed illegally.
Following their marriage, Mr Lounes applied for a residence card in 2014 as a family member of a European Economic Area national.
The Home Office refused the application on the basis that under UK legislation, Ms Ormazabal had ceased to be an EEA national after she gained British citizenship.
The EEA countries are made up of all those in the EU, as well as Liechtenstein and Norway.
Mr Lounes's case was referred to the European Court of Justice by the High Court in England and Wales after it expressed doubts about the Home Office's decision.
The European Court of Justice concluded that people in Ms Ormazabal's situation should have the right to build a family life with a spouse from a non-EU country.