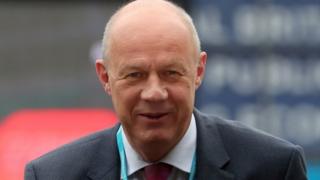 A former senior police officer has demanded cabinet minister Damian Green publicly retracts a claim that he lied about pornography being found on a computer in the MP's office in 2008.
Bob Quick said he would consider legal action against the first secretary of state if he did not do so.
In a tweet, Mr Green had described Mr Quick as "untrustworthy" and accused him of making "untrue" allegations.
Mr Green denies downloading or watching pornography on his work computers.
'In good faith'
In a statement issued by his lawyers, Mr Quick said: "Damian Green called me a liar in the statement he tweeted on 4 November 2017. That is completely untrue.
"Everything I have said is accurate, in good faith, and in the firm belief that I have acted in the public interest."
He added: "I am in no way motivated politically and bear no malice whatsoever to Damian Green.
"This is despite unfortunate and deeply hurtful attempts to discredit me."
'Political smears'
When he was assistant commissioner of London's Metropolitan Police Service, Mr Quick led an inquiry into Home Office leaks, which saw Mr Green's Commons office being searched in 2008.
Having resigned in 2009, Mr Quick made the allegations last month after the Cabinet Office launched an investigation into accusations of inappropriate behaviour by Mr Green towards journalist Kate Maltby, which the MP has described as "completely false".
Mr Green then tweeted his reaction, describing the pornography claims as "disreputable political smears" and accusing Mr Quick of acting in "flagrant breach" of his duty of confidentiality.
On Friday, retired Met detective Neil Lewis also alleged that "thousands" of thumbnail images of legal pornography had been found on Mr Green's parliamentary computer.
But he was condemned by the Met's Commissioner Cressida Dick, who said all officers had a duty to protect sensitive information they discovered.
Responding the Mr Quick's comments on Tuesday, a spokesman for the Tory MP said: "It would be inappropriate for Mr Green to comment while the Cabinet Office inquiry is ongoing and while the Metropolitan Police is investigating the conduct of former officers."