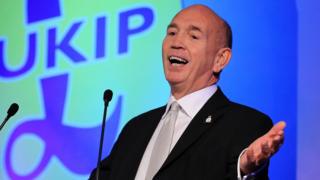 A former Tory and UKIP MP has appeared in court to face election fraud charges.
Bob Spink, 69, who served as an MP for Castle Point, Essex, is accused of fraud during the Castle Point borough council elections in May last year.
He denies five counts of permitting a false signature to be included on a nomination form for a UKIP councillor.
UKIP agent James Parkin denies six counts of the same offence, but jurors heard he admits two similar charges.
Mr Spink was Conservative MP for Castle Point from 1992 – 1997, and again from 2001.
In 2008 he defected from the Conservative Party and joined UKIP, effectively becoming its first MP.
Mr Spink, from Benfleet in Essex, then stood as an independent candidate in the 2010 general election with the support of UKIP, but failed to win.
In May 2016 he stood as UKIP's candidate to be the police and crime commissioner (PCC) for Essex but lost.
The PCC election was held at the same time as the borough council elections.
Opening the trial at Southwark Crown Court, prosecutor Tom Nicholson said there was "no issue" with the 100 signatures obtained by Mr Spink for him to stand as a candidate in the PCC election.
But he quoted local residents, whose signatures appeared on nomination forms apparently backing Mr Parkin as a UKIP local election candidate.
Mr Nicholson said while canvassing on the doorstep, Mr Spink and another man, believed to be Mr Parkin, failed "in various ways to explain properly what they were asking residents to sign".
Mr Spink and Mr Parkin, of Canvey Island, Essex, – UKIP's election agent at the time – both deny misleading householders in the constituency as to the purpose of the signatures.
The trial is set to last four weeks.