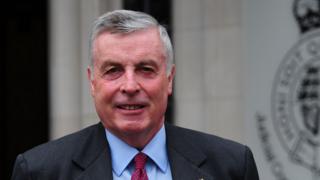 A gay man has won a landmark ruling which will give his husband the same pension rights as a wife would receive.
The Supreme Court unanimously ruled that if John Walker, 66, dies, his husband is entitled to a spouse's pension, provided they remain married.
The ex-cavalry officer suffered a defeat in the Court of Appeal in 2015.
Human rights organisation Liberty, which represented Mr Walker, said it could "dramatically change the lives of thousands of same-sex couples".
Mr Walker took legal action as he wanted to ensure that, should he die first, his husband would receive an adequate pension.
The ruling means Mr Walker's husband, who is in his 50s, will now be entitled to a spousal pension of about £45,000 a year, rather than around £1,000 a year.
Mr Walker said it was "to our government's great shame that it has taken so many years, huge amounts of taxpayers' money and the UK's highest court to drag them into the 21st Century".
"In the years since we started this legal challenge, how many people have spent their final days uncertain about whether their loved one would be looked after?"
He added: "My husband and I can now get on with enjoying the rest of our lives together."
In 2015, Court of Appeal judges ruled that his claim failed because it applied to a period before gay civil partnerships were recognised by law.