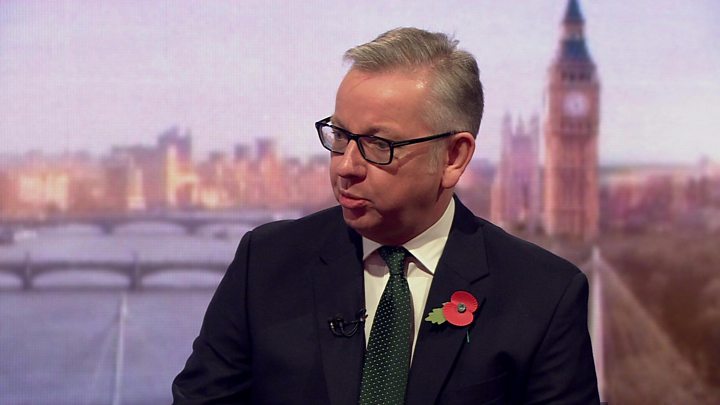 Iran, not Boris Johnson, should be the focus of criticism over the detention of a British-Iranian woman, Environment Secretary Michael Gove has said.
The foreign secretary caused controversy by suggesting Nazanin Zaghari-Ratcliffe was training journalists when she was arrested.
Labour leader Jeremy Corbyn and London Mayor Sadiq Khan have called for him to resign for putting her at risk.
But Mr Gove said the UK must "call out" Iran, not "play their game".
"Who is in the dock here? Iran. It should be the actions of their judiciary and the revolutionary guards," Mr Gove told the BBC's Andrew Marr Show.
"We make a big mistake if we think the right thing to do is to blame politicians in a democracy who are trying to do the right thing for the plight of a woman who is being imprisoned by a regime that is a serial abuser of human rights."
"If the Iranian judiciary want to use the words of a democrat in order to justify an unjustifiable decision then it is our responsibility to call them out. Let's not play their game."
'Don't know'
But Mr Gove has come under fire from Labour, as when he was asked what Mrs Zaghari-Ratcliffe had been doing in Iran, he initially replied: "I don't know" before going on to say that he would "take exactly her husband's assurance" that she had been on a family holiday.
Shadow Cabinet Office minister Jon Trickett said Mr Gove had "compounded" Mr Johnson's "cavalier approach to international diplomacy" adding: "It appears (Mr) Gove is more interested in protecting (Mr) Johnson's job than the liberty of a British citizen in jail in Iran.
"Theresa May must ensure Nazanin Zaghari-Ratcliffe does not pay the price for her ministers' bungling."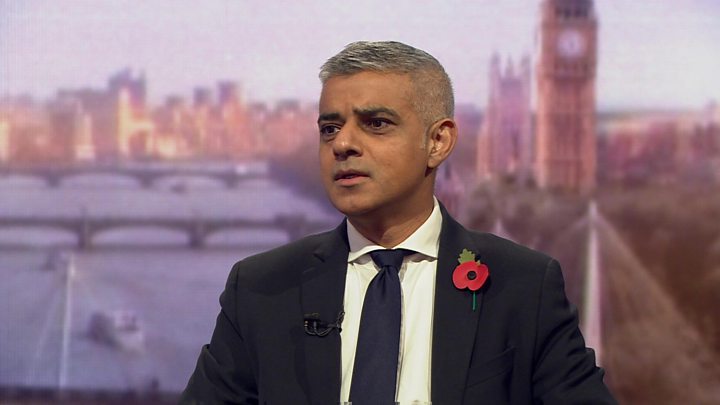 Mrs Zaghari-Ratcliffe is currently serving a five-year sentence after Iran tried her on charges of trying to overthrow the government.
She denies all the allegations against her and says she was in Iran so her daughter could meet her grandparents.
She lost her final appeal in April 2017 but has since faced two more charges relating to an accusation of plotting to topple the regime in Tehran.
Mr Johnson's comments to the House of Commons foreign affairs committee were cited as evidence against her after they were made last week.
'Got to go'
He has since told MPs he was sorry if his words were "so taken out of context" as "to cause any kind of anxiety".
The UK government had "no doubt" she was on holiday when she was arrested, he said.
It is understood that Mrs Zaghari-Ratcliffe's husband Richard spoke to the foreign secretary on Sunday. Mr Ratcliffe told the BBC he hoped he might be able to travel to Iran with Mr Johnson to meet his wife.
"That's the chance after all these months of not being able to go there, at least I can go and get to see them," Mr Ratcliffe said.
Labour Leader Mr Corbyn told the Observer Mr Johnson should be sacked as foreign secretary for "undermining our country" and "putting our citizens at risk".
He added: "We've put up with Johnson embarrassing and undermining our country with his incompetence and colonial throwback views and putting our citizens at risk for long enough. It's time for him to go."
And Mr Johnson's successor as mayor of London, Labour's Sadiq Khan, told the BBC: "I think he's got to go. I think he's our foreign secretary whose job is diplomacy and representing the best interests of our country. And if Theresa May was a strong prime minister she would have sacked him a long time ago."
Mr Gove and Mr Johnson were allies during the EU Referendum when they headed up the Vote Leave campaign.
But they fell out during the 2016 Conservative leadership race when Mr Gove, announced he would also stand.