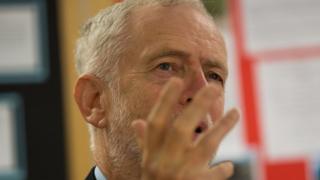 Jeremy Corbyn will accuse "unscrupulous bosses" of using technology to undermine workers' rights in a speech to trade union members.
The Labour leader will tell the TUC conference that the rise of the so-called gig economy has harmed workers' mental health.
He will urge young people to join a trade union to protect their rights.
At the same event, the leader of Unite told the BBC co-ordinated strikes on public sector pay were "highly likely".
Mr Corbyn will use his address to the trade union conference in Brighton to hit out at companies that use temporary and short-term contracts.
He will say they are a "source of continuous worry and insecurity for millions of people".
'Demonised'
The Labour leader will also say workers in the gig economy, which is presented as "modern and dynamic", deny "both employees and customers basic protections".
Young people should ignore the way trade unions are "demonised" and safeguard their rights by joining one, Mr Corbyn will say.
Labour winning a general election would be "simply not enough" without increased participation in trade union activity, he is due to say.
"Politics is about power and democratic politics is about putting power in the hands of the many not just the few.
"That principle applies in the workplace too," he will add.
Public sector strikes
The issue of public sector pay has dominated the conference, with the TUC warning the government against "cherry-picking" some workers for pay rises.
Unite general secretary Len McCluskey told the BBC he was willing to break the law to go on strike over the issue in the coming months.
Since March successful strike ballots have had to achieve a 50% turnout for legal industrial action to go ahead.
Mr McCluskey said he would disregard what he called an "artificial threshold" if his members backed a strike over pay in insufficient numbers in the near future.
The BBC understands ministers will lift the 1% public pay cap for the first time, for police and prison officers.
Also in his TUC congress speech, Mr Corbyn will set out his party's "jobs first" plan for Brexit, the day after he was accused of presenting a muddled policy on single market membership.
Free movement rules will end and be replaced with "fair rules and reasonable management of migration", he will say.
"We must never let ourselves be duped and divided. It isn't migrants who drive down wages and conditions but unscrupulous employers, supported by a government that slashes rights and protections at work whenever it gets the chance."