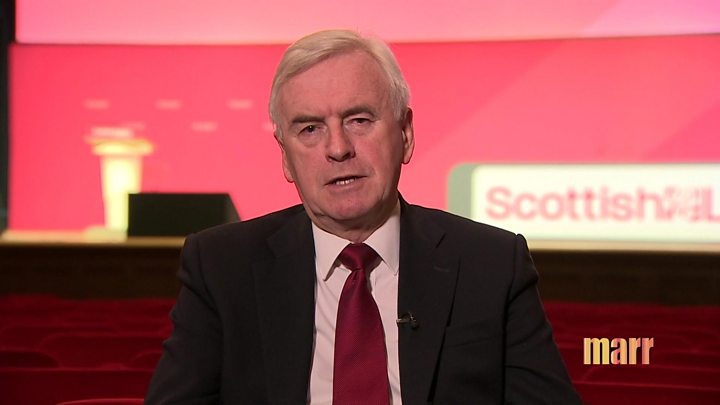 Labour's Shadow Chancellor John McDonnell has said he won't be making any more appearances on Kremlin-sponsored TV station Russia Today.
He said RT's coverage "goes beyond objective journalism" and it was "right", after events in Salisbury, that Labour MPs did not appear on it.
A party spokesman said: "We are keeping the issue under review".
Mr McDonnell also backed visa sanctions against Russians suspected of corruption.
Chancellor Philip Hammond suggested a deal could be reached with Labour to bring in sanctions.
But he rejected a call from the widow of murdered Alexander Litvinenko for the Conservatives to pay back more than £820,000 donated by Russian-linked business people since Prime Minister Theresa May came to power.
He told the BBC's Andrew Marr there were "very strict rules" governing donations to UK political parties.
"Only British citizens who are on the electoral register can make donations to parties" and those donations are "carefully vetted" and "reported to the Electoral Commission" he said.
"There are people in this country who are British citizens who are of Russian origin – I don't think we should taint them, we should tar them with Putin's brush.
"We should recognise that people come to this country from many places, they become British citizens, they live under UK law and they should have full participation rights in our society once they're British citizens."
It came after Marina Litvinenko warned the government: "You need to be very selective who you are friends with.
"When you allow people with money to come to your country to make a business, you need to make sure where the money has come from."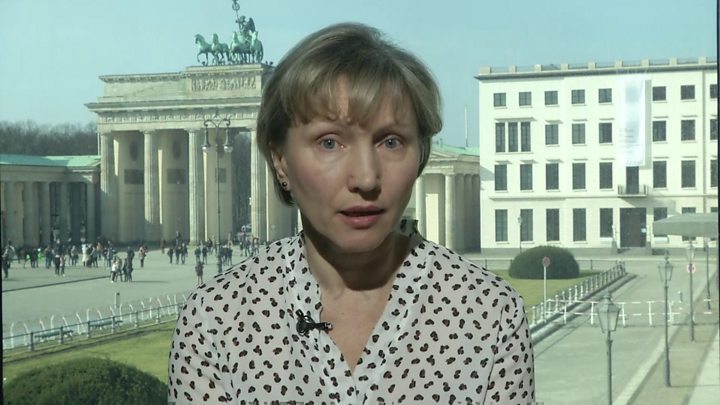 Mrs Litvinenko said the UK government's response to the murder of husband, an outspoken critics of Vladimir Putin who was fatally poisoned in 2006, had not been strong enough and lessons had not been learned.
Mr Hammond, who was foreign secretary when the UK government inquiry into Mr Litvinenko's death was published, in 2015, said "we took measures which are still in place today" but he said the Russian government continued to protect the suspects the UK wanted to extradite to stand trial for his murder.
Asked by Andrew Marr if the Russians "were laughing at us" and believed they could act without implications in the UK, he said: "Nobody is laughing at us – this is a very serious investigation that is going on and let's see where it leads us."
Labour has been under fire for some time from the Conservatives over appearances by its MPs and spokespeople on RT UK.
Mr McDonnell said he had appeared on the rolling news channel in the past to raise certain issues but he added: "I've been looking overnight… in terms of changes in coverage on Russian television, in particular, and I think we have to step back now."
He added: "I can understand why people have [appeared on RT] up until now because we have treated it like every other television station.
"We tried to be fair with them and as long as they abide by journalistic standards that are objective that's fine but it looks as if they have gone beyond that line, so yes, we will have that discussion."
He called on the government to pass a British version of the US Magnitsky Act – which punishes Russians involved in corruption – if the Kremlin is found to be behind the poisoning in Salisbury.
He said that the Labour Party had already moved amendments to the Money Laundering Bill currently going through parliament to introduce Magnitsky clauses – amendments he said were opposed by the Conservative Party.
"We hope now they'll enable us to bring those amendments back at the Report stage of the bill" he said.
Chancellor Philip Hammond said introducing Magnitsky clauses was not "strictly necessary".
"The home secretary already has the power to exclude individuals from the UK if she believes that their presence here is not conducive to the national security or the public good.
"But we're seeking to reach an accommodation with those who have put this amendment forward.
"Let's see if we can come to a proposal that works for everybody."