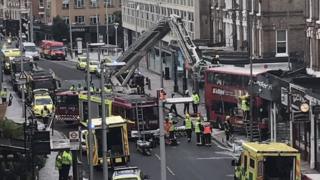 A double-decker bus has crashed into a shop in south London, leaving two women trapped on the top deck.
London Fire Brigade (LFB) said the women were conscious and breathing.
Photos on social media show the vehicle on the pavement having smashed into the front of the Poggen Pohl Kitchen Design Centre in Lavender Hill, causing the shop front to collapse.
The bus driver has been taken to hospital and other casualties are being treated at the scene, police said.
A Transport for London (TfL) spokeswoman said the crash involved a route 77 double-decker bus.
Emergency services were called at 06:55 BST.