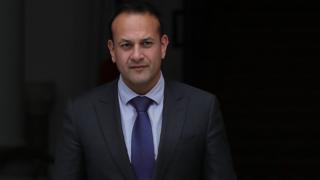 The new Taoiseach (Irish Prime Minister) Leo Varadkar will hold talks with Prime Minister Theresa May in Downing Street later on Monday.
It comes as Mrs May's Conservative Party continues to discuss a deal with the Democratic Unionist Party (DUP) to support a minority Tory administration.
Brexit and the lack of devolution in Northern Ireland will be on the agenda.
Mr Varadkar has said he wants to renew the close bond and strong relations that exist between Ireland and the UK.
The meeting comes as the UK starts its Brexit negotiations with the EU.
Subjects for the negotiations, which officially start in Brussels later, include the status of expats, the UK's "divorce bill" and the Northern Ireland border.
The taoiseach is set to use his first meeting with the prime minister to raise a series of concerns on Brexit.
He wants to avoid any adverse impact on the rights of Irish citizens and he will discuss what Brexit means on Anglo-Irish trading links as well as the Irish economy.
He is also expected to raise the issue of what a DUP-Conservative deal at Westminster would mean for Northern Ireland.