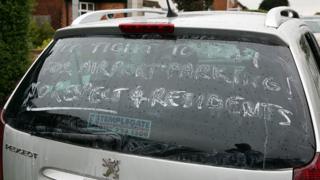 Cars belonging to holidaymakers who parked on streets near an airport have been vandalised.
The two vehicles were left on roads close to London Luton Airport.
A windscreen and windows were smashed and the cars daubed with messages complaining about people not paying for airport parking.
Luton Borough Council said it was consulting with residents about introducing parking permits in the areas affected.
LIVE: Updates on Bedfordshire news
London Luton Airport said it would always urge passengers to use the onsite parking.