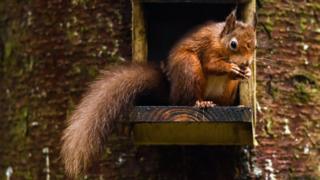 A new environment watchdog to protect UK wildlife, land, water and air once Britain leaves the European Union is being planned by the government.
Environment Secretary Michael Gove said the body would "hold the powerful to account" and deliver a "green Brexit".
In an article for the Sunday Telegraph, he said the watchdog would have "real bite" but did not outline exact powers.
The plans come amid concerns that environmental regulations enshrined in EU law could be lost after Brexit.
Mr Gove said the watchdog would be independent of government and "able to speak its mind freely".
"It will be placed on a statutory footing, ensuring it has clear authority," he wrote.
Wildlife worries
He said the watchdog would make a national policy statement to make sure policymakers protect the environment, adding: "Its ambition will be to champion and uphold environmental standards, always rooted in rigorous scientific evidence."
He said it was important that environmental enforcement and policymaking was "underpinned by a clear set of principles" once Britain leaves the EU.
Some MPs are worried that Brexit poses a risk to UK wildlife and habitats – with the cross-party Environmental Audit Committee calling for the creation of an environmental protection act.
Labour's Mary Creagh, chair of the committee, told BBC News earlier this year: "European law protects huge amounts of the UK's environment, farming and countryside."
The government has said the EU Withdrawal Bill – which goes before MPs for debate this week – will incorporate many of these regulations.