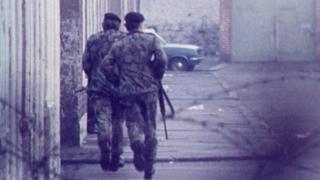 Four MPs have called for new legislation to prevent anyone accused of crimes linked to the Troubles in Northern Ireland from being prosecuted.
Their proposal would provide an effective amnesty to both members of the security forces and paramilitaries, the Press Association has reported.
The campaign is led by two Conservative MPs and two Labour MPs.
Last month, NI politicians expressed concern over a government proposal for a "statute of limitations".
That would prevent security force prosecutions.
Both republican and unionists leaders spoke out against the proposal, which has been included in a public consultation on ways to deal with the legacy of the Troubles.
Sinn Féin accused the government of acting in bad faith by suggesting an amnesty for former soldiers.
DUP leader Arlene Foster said she understood the motivation, but was concerned it could lead to a wider amnesty for paramilitaries.
The amnesty consultation followed a campaign by veterans' supporters who claim former soldiers are being disproportionately targeted in Troubles-related prosecutions.
That claim has been consistently rejected by Northern Ireland's Public Prosecution Service.
Now, according to the Press Association, four members of the House of Commons have argued that an amnesty reserved only for members of the security forces would be open to legal challenge.
They have written to Prime Minister Theresa May, urging her to widen the proposed statute of limitations to include "anyone" facing prosecution in Troubles-related cases.
The letter has been signed by:
Conservative MP Johnny Mercer, who is a former Army captain
Conservative MP Julian Lewis, chairman of the Commons Defence select committee
Labour MP Kevan Jones, a former defence minister
Labour MP Dan Jarvis, a former paratrooper
The letter reads: "From opposite sides of the House of Commons we view with great concern moves to bring to court so-called 'legacy cases' against British service personnel, long after the Belfast Agreement brought to an end the Northern Ireland 'Troubles'.
"It seems that several hundred such cases against former British soldiers may be in the judicial pipeline, despite the absence of any new evidence and the passage of up to 40 years or more."
The veterans' campaign against historical prosecutions has highlighted the fact that former soldiers do not benefit from a clause in the Good Friday Agreement that limits the maximum jail terms for paramilitary killings, prior to 1998, to two years.
"Some people object to the principle of such a Statute, because it would have to cover the paramilitaries as well as our service personnel; but… few if any paramilitaries will be tried for 'legacy cases' anyway," the MPs wrote.
Last week, Northern Ireland's outgoing director of public prosecutions (DPP), Barra McGrory, said the partial amnesty for the security forces could be open to challenge.
He also defended his role in prosecuting former soldiers and said criticism that his office had unfairly prioritised military cases was "unfounded" and "contrary to the evidence of our decision making".