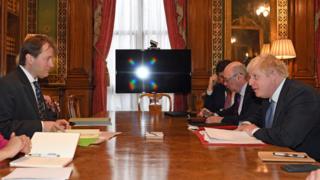 Foreign Secretary Boris Johnson is meeting the husband of a British-Iranian woman jailed in Iran.
Nazanin Zaghari-Ratcliffe has been held by Tehran since April 2016 after being accused of spying – charges she denies.
The meeting comes after the foreign secretary said during a Commons committee hearing she was there to train journalists – which could lead to her five-year jail term being doubled.
Her family have always maintained she was on holiday with her daughter.
Mr Johnson has apologised for the "distress" and "suffering" he had caused with the comments he made at the Commons Foreign Affairs Select Committee on 1 November, and retracted "any suggestion she was there in a professional capacity".
Some critics called for Mr Johnson to resign, but Richard Ratcliffe said it would not be in his wife's interests.
Before the meeting, a Foreign Office statement said the pair would discuss Mr Ratcliffe's request to give his wife "diplomatic protection" – which, under international law, allows a state to take diplomatic action on behalf of a national.
Earlier this week, Downing Street said it was "one of the options" being considered in the case.
They were also expected to talk about a possible joint trip to Iran before the end of the year and the health of Mrs Zaghari-Ratcliffe, who is said to have found lumps in her breasts.
Consular officials were expected to be at the meeting, along with Middle East minister Alistair Burt, who has already met Mr Ratcliffe and visited Mrs Zaghari-Ratcliffe's family in Tehran.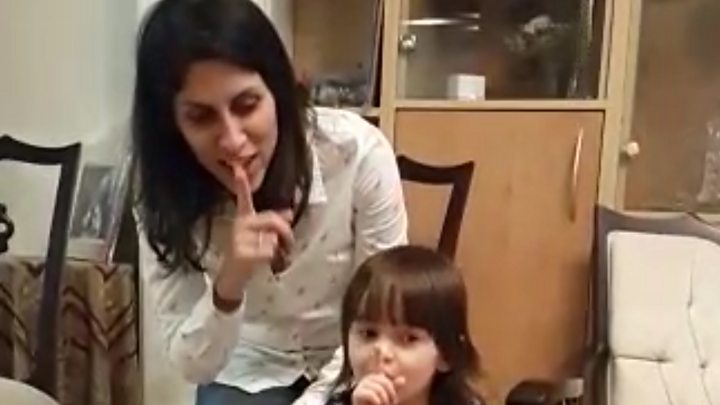 In an interview with BBC Radio 4's Today programme on Monday, Mr Ratcliffe said: "I think the best chance Nazanin has of coming home this side of Christmas is all of the weight of the Foreign Office and the foreign secretary being focused on doing that."
Earlier this week, a statement from the Foreign Office said that Mr Johnson had "made it clear that no stone should be left unturned" in securing the release of Mrs Zaghari-Ratcliffe.
"The Foreign Office remains very concerned about all our dual nationals detained in Iran and is doing everything it can in each of their cases, including trying to secure access to them and ensure their welfare," it added.