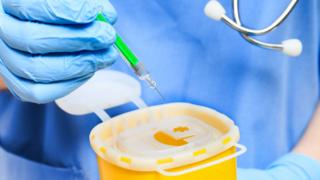 Healthcare Environment Services (HES) has been stripped of NHS contracts after hundreds of tonnes of waste from hospitals was allowed to pile up at its sites.
Health Minister Stephen Barclay said new arrangements have been made with Mitie to replace the service.
"NHS services continue to operate as normal", Mr Barclay told MPs.
HES has said it had highlighted the need to invest in the UK's "ageing" incinerator network for clinical waste.