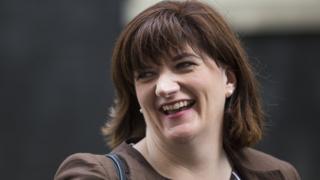 Nicky Morgan, the new chair of the influential Treasury Committee, has said she wants the body to extend its scope beyond banks and Brexit.
Ms Morgan, a former education secretary, told the BBC she wants to look "at the wider Treasury remit".
She said: "We want to look at the management of the economy, public spending decisions.
"We've got a Budget coming up, with issues like household debt, tax policy, investment in infrastructure.
"These are all the things that actually our constituents put us in the House of Commons for, the things that make a difference to household budgets and to their economic security."
Ms Morgan, the first female chair of the Treasury Committee, saw off competition from five other Tory MPs to land the role heading the committee of MPs that scrutinises the Treasury.
In the past few years, its members have grilled chancellors of the exchequer and governors of the Bank of England, as well as numerous chief executives.
Financial services
The former chair, Andrew Tyrie, stepped down as an MP at the last election.
Ms Morgan said that under him the committee had focused on financial services and the City of London.
She told the BBC's Today programme: "When Andrew Tyrie, who was a fantastic chairman, took up the role, obviously very fresh in everyone's minds was the financial crash, the bailing out of the banks and then the rebuilding of confidence in our institutions.
"But I am very keen that the committee should reflect that the Treasury has a very broad remit.
"There are concerns about levels of household debt. Interest rates have been low for a very long time. If there were to be a change in that, how would households cope? What spending decisions would they make – or not be able to make?"
Ms Morgan was a prominent Remain campaigner and said that the committee would be looking at issues around Brexit and the single market.
She said: "As a constituency Member of Parliament, I receive a barrage of views on both sides of the EU debate all the time, so I am very conscious, even if it may not be my own personal position, of what other people in the country and my constituency are thinking."