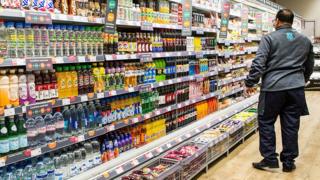 Shareholders in the Nisa convenience store group have approved the chain's £137m takeover by the Co-operative Group.
The deal was narrowly backed, winning of 75.79% of shareholders' votes at an emergency meeting. The offer needed to be supported by 75% of shareholders.
Nisa is a member-owned business that has more than 3,000 stores and operates a wholesale business.
The board said he deal was in the "best interests" of members.
Nisa chairman Peter Hartley said: "The convenience store environment is changing rapidly, and is unrecognisable from that which existed when Nisa was founded more than 40 years ago.
"Co-op will add buying power and product range to our offering, while respecting our culture of independence."
Under the deal, Nisa members will have the option of choosing not to buy goods through the Co-op.
The retail industry is undergoing a period of consolidation.
A shift in shopping habits, fierce competition from the likes of Aldi and Lidl, and the arrival of Amazon has prompted retailers like the Co-op look to bolster their businesses by buying food wholesalers.
Tesco is awaiting the results of an in-depth competition inquiry into its proposed £3.7bn takeover of wholesale giant Booker, which supplies goods to convenience stores, pubs and restaurants.
Nisa has nearly 1,200 members, who operate 3,400 stores among them are facing rising competition, rising rents, a clampdown on tobacco sales and rising food inflation.