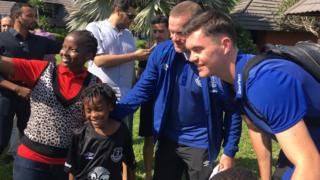 Football excitement is growing in East Africa as Wayne Rooney makes his first appearance for Everton since his return to the side at a historic match later in Tanzania.
The former Manchester United player has hogged the limelight since Everton flew into Tanzania on Wednesday.
"Rooney, Rooney, Rooney," fans chanted as the team bus arrived at their hotel.
Everton will play a friendly against Kenya's reigning Premier League champions Gor Mahia.
It will be the English Premier League side's first ever game in Tanzania.
Local fans and those who have travelled from Kenya are expected to fill the 60,000-seat stadium in the coastal city of Dar es Salaam.
The Kenyan side earned the right to play Everton after winning the regional SportPesa Super Cup, which pitted teams from Tanzania against those from Kenya.
'Royal treatment'
Kenyan betting firm SportPesa sponsors the Kenyan and Tanzania top-flight leagues.
In May, Everton confirmed SportPesa as the club's new shirt sponsor.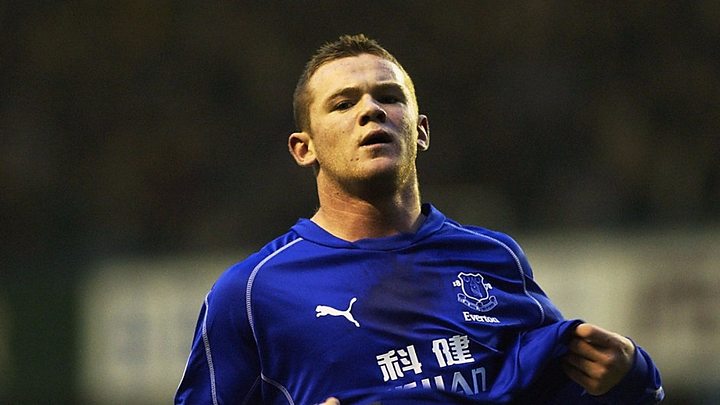 Everton have been given royal treatment since they arrived in the East African state.
The wild chants for Rooney, along with stomping performances by Maasai cultural dancers, created a spectacle to behold.
Everton's Democratic Republic of Congo winger Yannick Bolasie rivalled Rooney in the popularity stakes with a band of Congolese fans welcoming him to Tanzania. They were draped in T-shirts emblazoned with his face.
However, Rooney, who has rejoined Everton after 13 years at Manchester United, was the fan's favourite.
Even Tanzania's Vice-President Samia Suluhu Hassan attested to this.
"Wayne Rooney made me support Manchester United and now I don't know what to do because he has gone back to Everton," she said.
Rooney replied: "Being here, it has been a new experience for me and I hope the vice-president will now be able to support Everton. It's great to be back at Everton and I hope for more success."
Fans are buoyed by the prospect of seeing Rooney in action.
"Everyone in East Africa heard Everton is coming to Tanzania and they all want to see Wayne Rooney because he is a famous player, he is a good player," said Kassim Nyagogo, a fan who captured the public sentiment.
"Everyone has been asking: 'Is Wayne Rooney coming?' And you see the security here, it's all because of Wayne Rooney. I am going to make history by seeing Wayne Rooney today," he added.
He is not alone in the excitement.
Another fan, Eleneza Nhlanganzero, said: "A lot of people are excited by seeing Wayne Rooney. He's a big player and he will inspire a lot of people to come to the stadium and watch the game."
Whatever happens in the match, Rooney has been the biggest winner from this trip, with taxi drivers, dancers, businessmen and government officials all gripped by Rooney mania.