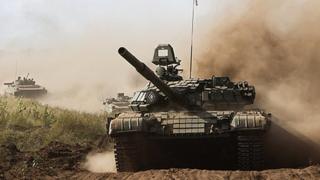 Russia and Belarus have launched a large-scale joint military exercise, called Zapad-2017, which has made nearby Nato countries nervous.
It is one of Russia's biggest military exercises since its 2014 annexation of Ukraine's Crimea peninsula.
Russia's defence ministry says about 12,700 troops are participating, but Nato expects the numbers to be higher.
The war games are under way in and around Belarus, involving armoured units, warships and aircraft.
Ukrainian President Petro Poroshenko has warned that Zapad-2017 (Russian for "West") could be a prelude for an invasion of Ukraine. Kiev has stepped up security on Ukraine's borders.
Russian military exercise raises tension
Ukraine fears Russian stealth assault
Pro-Russian separatists control a swathe of eastern Ukraine and their continuing skirmishes with Ukrainian government troops have undermined a ceasefire signed in Minsk in February 2015.
Nato accuses Russia of supplying the rebels with heavy weapons and troop reinforcements. Russia denies that, but admits that some Russian "volunteers" are helping the rebels.
Nato has deployed four battalion-size battlegroups – 4,530 troops in total – to Poland, Estonia, Latvia and Lithuania, which border on Belarus and Russia.
The 29-nation Western alliance also has an air-policing mission over the Baltic republics.
The scenario for the Zapad-2017 exercise is an armed uprising in Belarus by "saboteurs" and "terrorists" backed by a fictitious country called "Veishnoria". Russian forces are deployed to Belarus to help crush the rebellion.
The main purpose is to integrate the two countries' military headquarters in a realistic combat scenario. Belarus is mobilising about 7,200 troops and Russia about 5,500, Russia's defence ministry says.
The Russian territory of Kaliningrad – sandwiched between Nato members Poland and Lithuania – is included in the exercise.
Belarus President Alexander Lukashenko has close ties to Russia, though there have been periodic disputes over trade.