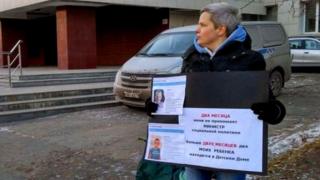 A Russian mother is campaigning to get back two adopted children who were taken from her after she chose to have her breasts removed.
The case of Yulia Savinovskikh has reverberated far beyond Yekaterinburg, the city in the Urals where she lives.
Adoption officials took the boys away at the end of August and she suspects they acted because they believed she planned to start living as a man.
She has filed a legal appeal. She says she is not preparing for a sex change.
Before her breasts were removed, she wrote a transgender blog but insists it was just fiction and a way for her to prepare psychologically for the breast surgery.
There is widespread prejudice in Russia towards transgender and gay people. There is a ban on gay information campaigns aimed at children – including sexual health campaigns.
Mrs Savinovskikh said she was "tired of coping" with large breasts.
She said they became painful after she gave birth. "Physically it was really tough, my back was aching at night, and in the morning," she told BBC Russian.
Mrs Savinovskikh is the birth mother of three older children. Her husband is backing her drive to get back the boys, who had been living with the family for several years.
Her lawyer, Alexei Bushmakov, said her breasts had caused her pain and "the surgery cannot be grounds for such harsh action by officials".
---
Read more on Russian social issues:
---
This week Ms Savinovskikh began picketing the Sverdlovsk regional administration, standing in the freezing cold next to a tent, to draw attention to her case.
She also began a hunger strike, but called it off hours later after a senior official agreed to listen to her complaint.
On Facebook, Ms Savinovskikh posted a letter from the Sverdlovsk government defending the decision to remove her two adopted boys.
The letter said she had been found to be unsuitable as a foster parent – but did not specify a reason.
It said the adoption service had found "contradictions" between her interests and those of the two boys, "and that was the reason why the boys were removed from your family".
Russian media report that both boys have serious mental disorders, and that new foster parents are being sought for them now.