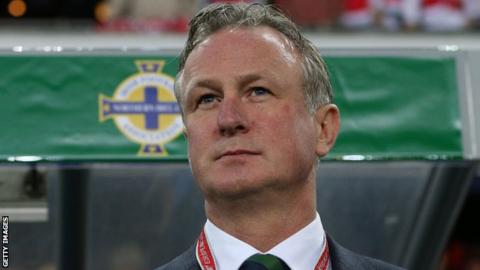 Former Northern Ireland manager Lawrie Sanchez believes the scrutiny of living and managing in Scotland would be an adjustment for Michael O'Neill.
The Scottish FA want Northern Ireland boss O'Neill to succeed Gordon Strachan as Scotland coach.
O'Neill, 48, lives in Edinburgh and spent much of his playing career in Scotland.
"Living in Edinburgh, if he goes to Scotland, he will be living it," Sanchez told BBC Radio Scotland.
"When I left the country and I flew out of Belfast, I could get away from it. I could get away from people, all the journalists pestering me, from people talking to me about Northern Ireland.
"It's great when you're winning and everybody knows he's on a high at the moment. His star is rising very well. You've only got to lose a few games as Scotland manager early in the campaign and you've got to answer those critics everyday in the street. That's a consideration.
"At the moment, he leaves Belfast to go to Northern Ireland. Nobody in Edinburgh's asking him how Northern Ireland did because they're not interested."
O'Neill led his country to the Euro 2016 quarter-finals and the World Cup play-offs. Scotland last reached a major finals in 1998.
And Sanchez said on Sportsound: "At this moment, you've got a mentality in the Northern Ireland squad going into the next campaign that no matter who's manager they can qualify for it, they can get there – certainly the Europeans where the top two will go through definitely and not have to go to play-offs.
"Coming to a Scottish squad that's missed out yet again and missed out time and time and time again, the mentality isn't quite as positive.
"You've got more numbers and, obviously, you've got a whole professional league set-up unlike Northern Ireland where very few players, if any of the players, play within the Northern Ireland leagues.
"They all play over in England or I read somewhere that Michael had given 17 players from Northern Ireland that played in Scotland their debuts so that's where their talent is.
"The Scotland managerial job might be the next step up for him. Obviously, I think there'll be more money involved in it.
"Northern Ireland have been really good for Michael. I think he won one in his first 20. I think it was something horrendous that no club would certainly allow. You certainly couldn't get away with that in Scotland. You have to hit the ground running with Scotland."
Motherwell manager Stephen Robinson was part of Northern Ireland's coaching staff at Euro 2016 and believes his countryman faces a lifestyle dilemma as he ponders his future, with clubs expected to be interested in O'Neill.
"They are two very different jobs," Robinson told BBC Scotland.
"The international set-up, you have six or seven games a year. A club job is full on. It's 24 hours a day.
"There's a lot of stuff you do behind the scenes that people don't see, but you have time to yourself, you have a life. You have down time, you have family time.
"The choice that Michael has now is does he stay in that lifestyle that he's certainly built for himself and earned that right to or does he take a club job where it's full throttle and you're in the media attention 24 hours a day."
Robinson would prefer O'Neill to extend his six-year reign as Northern Ireland manager but pointed to the professionalism that will attract potential suitors.
"His man-management – he manages people very well," Robinson added.
"We've got a mixture of players from Premier League, League Two, League One boys who aren't playing regular and everyone's treated the same.
"We are mirroring Premier League teams now in our preparation in how we travel and prepare for games.
"He's absolutely meticulous in his preparation. Success is really well deserved."