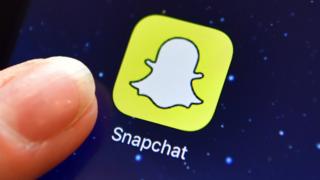 Snapchat shares plunged 14% on Thursday after the social media firm reported more than $400m in quarterly losses and fewer than expected daily users.
The share price fall extended a decline that started almost immediately after Snapchat started trading on the stock market this spring.
The firm had 173 million active daily users, up 4% on the prior quarter.
But the messaging app is struggling with fierce competition from Facebook, which offers similar features.
Snapchat said revenue over the three months to the end of June was $181.7m, more than double the same period in 2016.
But expenses grew even faster, reaching more than $630.6m for the quarter, including expenses related to stock-based compensation.
The number of users climbed more than 20% year-on-year. The firm made an average of $1.05 in revenue per user, up 16% from the prior quarter and more than double the period in 2016.
Still, shares in the firm fell more than 14% in after-hours trade.
Its stock, which was priced at $17 for its public offering, is now trading at less than $14.