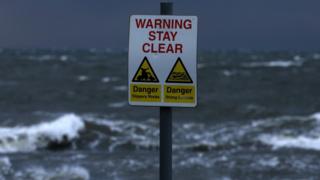 Warnings of snow, ice and wind have been issued for many parts of the UK, with forecasters saying road, rail and air travel may be disrupted on Friday.
Snow showers affecting Scotland, Northern Ireland and northern England are expected to extend across Wales and central and western England overnight.
The Met Office has yellow "be aware" warnings in place.
There are flood warnings on England's east coast due to a tidal surge brought by Storm Caroline from the Atlantic.
On Thursday, rail and ferry travel were disrupted and dozens of schools shut in Scotland as Storm Caroline brought winds gusting more than 90mph.
BBC weather presenter Louise Lear said Storm Caroline is moving away towards Scandinavia but is allowing a band of cold air to push into the UK.
Although the storm-force winds will ease during the night, conditions will remain blustery and there will be a cold start to Friday with temperatures ranging from -2C to 3C (28F-38F), she added.
Councils across Wales say they are making plans for up to 20cm of snow, with counties across the north of the country expected to be worst affected.
The Met Office says across the UK, 2-5 cm (1-2 inches) of snow is likely in the other affected areas, with 10-20 cm possible in some locations, mainly in northern Scotland, Northern Ireland, and possibly the north-west Midlands.
"Icy surfaces are also likely to be an additional hazard, especially overnight and there is the possibility of travel delays on roads stranding some vehicles, while some rural communities could be cut off and power supplies interrupted," it said.
It warned of "possible delays and cancellations to rail and air travel".
The Met Office says Storm Caroline's winds are now confined to the far north-east of mainland Scotland and the Northern Isles, and there could be gusts of 70-80 mph at times, especially over Shetland, on Friday.
There are also 10 flood warnings and more than 20 flood alerts affecting the north-east coast of England from the Tweed estuary to Easington, and Norfolk, Suffolk and Essex.
The Environment Agency says it is seeing "relatively high tides and for the Thursday evening high tide we will experience an approximate 0.7m surge due to the Storm Caroline low pressure system.
"The storm will also create significant waves and overtopping is possible in some areas."
Get news from the BBC in your inbox, each weekday morning