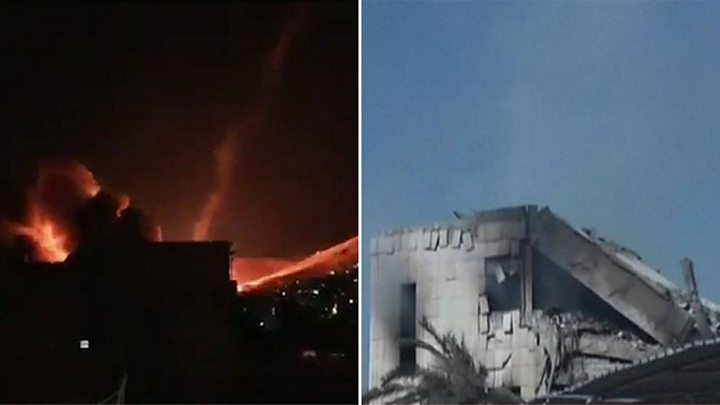 Theresa May has said it was "legally and morally right" for the UK to join air strikes against the Syrian regime to prevent "further human suffering".
She told MPs there was "clear evidence" the Assad government was behind the Douma chemical weapons attack.
The UK, she said, had "explored every diplomatic channel" but regrettably decided there was no alternative to "limited, targeted action".
Opposition parties say MPs should have been consulted before the action.
Labour says its advice suggests the military strikes were not legal, while the Scottish National Party has said it will seek to force a vote on the issue, arguing that Theresa May's decision to authorise UK participation in air strikes without prior parliamentary approval was a "disgrace".
Sites near Damascus and Homs were hit on Saturday in response to the alleged chemical attack on Douma on 7 April.
Both Syria, which denies any chemical use, and Russia, which provides military support to the Syrian government, have reacted angrily to the action.
UK prime ministers do not legally need to consult Parliament before launching military action, although they have done so since the 2003 invasion of Iraq.
Mrs May began her Commons statement at 16:19 BST and will take questions from MPs.
She insisted it was in the UK's national interest to act – insisting that "we have not done this because President Trump asked us to but because it was the right thing to do".
She said the use of chemical weapons could not be "normalised" in either Syria or elsewhere.
Commons Speaker John Bercow has indicated he is likely to reject the PM's request for a subsequent emergency debate in favour of one asked for by Labour MP Alison McGovern.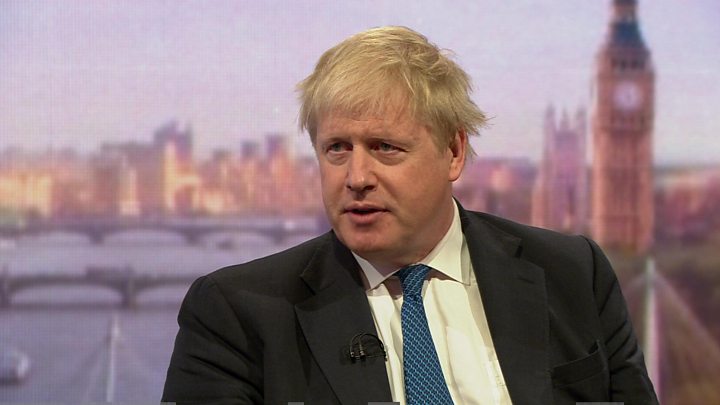 Any vote in these debates would be largely symbolic and would mainly just acknowledge that Parliament has had its say rather than give MPs the chance to formally approve or reject the air strikes themselves.
Theresa May's decision to authorise action without MPs' backing has been criticised by Labour leader Jeremy Corbyn, who said she could "easily" have recalled Parliament or delayed her decision until MPs returned to Westminster from the Easter recess.
Mr Corbyn called for a new War Powers Act "so governments do get held accountable to Parliament for what they do in our name".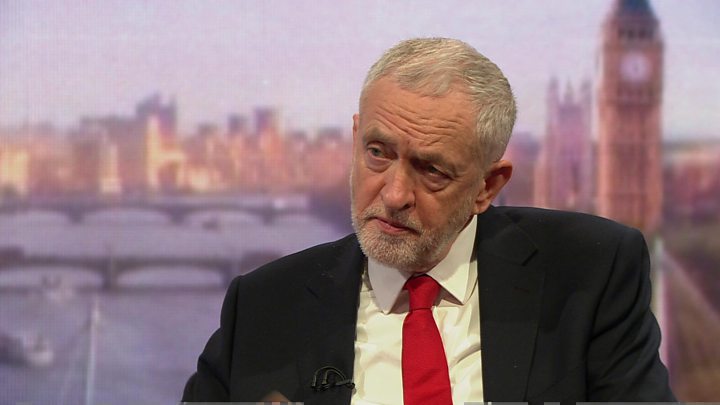 Labour's shadow attorney general Shami Chakrabarti told BBC Breakfast: "I have concerns about the legality of the strikes on the basis of the tests that government has set itself.
"In particular, it seems far from clear to me that there was overwhelming evidence widely accepted by the international community that this had to happen so urgently and also that there was no practical alternative – even when the chemical weapons inspectors were on their way into Syria."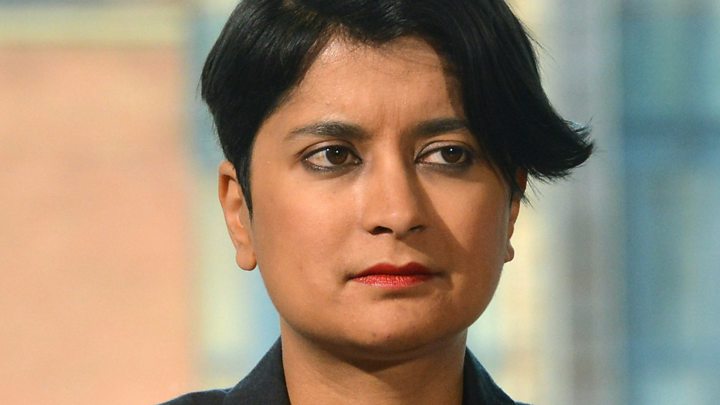 Legal advice from Dapo Akande, International Law professor at Oxford University, commissioned by Labour's deputy leader Tom Watson, suggests neither the UN charter nor international law supports using humanitarian protection to support military action.
The advice says the government's action risks undermining the UN Charter and is likely to be used by Labour to criticise the government's case for strikes in the debate later.
The SNP's Westminster leader Ian Blackford said for Parliament to be consulted about military action "after the event" was simply not good enough.
"When we are talking about military action in a third country, that is a decision that Parliament should be taking and not government itself," he told BBC News. "That is what democracy is all about."
Liberal Democrat deputy leader Jo Swinson said the decision had been taken "behind closed doors" and much more scrutiny was needed of the objectives behind it.
While the situation in Syria was "very serious", she said there was not the same "acute urgency" for military intervention on humanitarian grounds as there had been in Libya in 2011.
Mr Corbyn, who has warned of an escalation in a "proxy war" between the US and Russia, said he would only consider backing intervention in Syria with the support of the United Nations.
But his calls for a War Powers Act were dismissed by cabinet minister David Lidington, who told ITV there were "no plans" to change the law and the government must have the right to "act swiftly and flexibly".
Downing Street published its legal case for its part in the strikes, stating that the action was legally justified on humanitarian grounds.
And Mr Johnson defended the strikes in his appearance on the Marr show, stressing the "limits" of what the UK was seeking to achieve.
The intervention "is not going to turn the tide of the conflict", he said, adding that it was about stopping the erosion of the "taboo" of chemical weapons.
On Saturday, the Ministry of Defence said eight Storm Shadow missiles had been launched by four RAF Tornados at a former missile base, 15 miles west of Homs.
It is thought President Bashar al-Assad's regime had been stockpiling materials used to make chemical weapons there, it said.
There has been no confirmation of any civilian casualties. The MoD has stated the facility was located "some distance" from "concentrations of civilian habitation".
The UK and US have said the strikes were successful, with President Trump warning the US is "locked and loaded" for further action if there are more chemical attacks.
On Saturday, the UN Security Council rejected a resolution drafted by Russia, while all Nato allies have given the military action their full support.