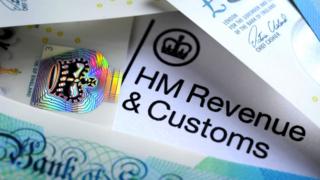 Annual tax rises of £40bn will be needed if the government wants to keep spending constant and balance its books by 2025, a think tank has warned.
The Institute for Fiscal Studies added that dismal productivity, earnings and GDP growth had become the "new normal".
Its forecast comes after the chancellor unveiled upgraded growth and borrowing forecasts in the Spring Statement on Tuesday.
Philip Hammond said the UK economy had reached a turning point.
Paul Johnson, director of the Institute for Fiscal Studies (IFS), said that "nothing much" had changed in the Spring Statement.
He said the UK was still suffering the hangover of the 2008 financial crisis and its growth outlook was "the worst in the G20".
He said the big problem facing the chancellor was how to balance growing demands for spending increases with his promise to eliminate the deficit by the mid-2020s.
Tax challenge
On the one hand, public services such as prisons and the NHS were struggling "in a way that they were not two or three years ago", Mr Johnson said.
On the other, the government is struggling to collect as much tax as it used to, after taking large numbers of people out of paying income tax.
"[The chancellor] has been unable to tackle the problems posed by the increasing numbers of self-employed and company owner managers, who pay less tax than similarly remunerated," Mr Johnson added.
"If high-paid jobs – and EU citizens, who are well represented among high earners in the UK – relocate elsewhere, the consequences for the Exchequer will be severe," he added.
Given the outlook, the IFS said tax rises of £30bn would be needed each year to retain public spending and balance the budget by the middle of the next decade – a Conservative Party pledge.
An extra £11bn would be required to cover social care, health and pension costs for the ageing population, the IFS said.
Higher growth?
In Tuesday's Spring Statement, Mr Hammond said growth was now forecast to be 1.5% in 2018, up from 1.4% forecast by the Office for Budget Responsibility in November.
He also said debt was expected to fall as a share of GDP from 2018-19, the first drop in 17 years, and that inflation would return to 2% by the end of the year.
However, Mr Johnson said the good news on borrowing would "largely wash out" over the next few years, while the structural deficit in 2019-20 would be almost unchanged.
He added that the UK economy was now 14% smaller than would have been expected, based on pre-crisis trends, while median earnings remained below their 2008 level.
"The reality of the economic and fiscal challenges facing us ought to be at the very top of the news agenda, " Mr Johnson said.
"And I mean the reality, not the spin and bluster of politicians on all sides pretending there are easy solutions."
A Treasury spokesperson said: "Our balanced approach has reduced the deficit while also cutting taxes for over 30 million people and investing in our vital public services.."