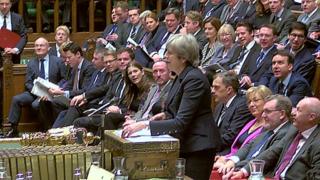 Theresa May insisted "very good progress" was being made in Brexit negotiations – as the DUP said there was "more work to be done".
Mrs May appeared in Prime Minister's Questions after a phone call with DUP leader Arlene Foster, who has refused to support draft plans for the border.
One Tory MP said the PM's "red lines" on Brexit looked "a little bit pink".
Labour leader Jeremy Corbyn said the government should "get out of the way" if it couldn't negotiate a deal.
On Monday Northern Ireland's Democratic Unionist Party – whose support the PM needs to win key votes at Westminster – objected to draft plans drawn up by the UK and the EU.
The DUP said the proposals, which aimed to avoid a "hard border" by aligning regulations on both sides of the border between Northern Ireland and the Republic of Ireland, were not acceptable. Dublin says it wants firm guarantees that a hard border can be avoided.
This has left the UK government racing to find an agreement suiting all sides in time for next week's EU summit.
Following Mrs May's call with Ms Foster, a DUP spokesman said discussions were continuing and there was "more work to be done".
In PMQs, Mrs May was asked by the DUP's Jim Shannon to ensure there would be no "constitutional, political or regulatory" barriers between Northern Ireland and the rest of the UK.
She said the short answer was yes, adding that the Brexit settlement would respect the UK's "constitutional integrity" and "internal market".
'More red paint'
She said that finding a way to leave the customs union and single market while avoiding a hard border was the "whole point" of Brexit negotiations about future relations.
But the EU says talks about the future can only happen when enough progress has been made in agreeing what will happen at the Northern Ireland border.
The suggestion of "regulatory alignment" between Northern Ireland and the European Union – which emerged on Monday – has concerned some Eurosceptic Conservative MPs.
During PMQs backbencher Jacob Rees-Mogg proposed a new coat of red paint for Mrs May's negotiating "red lines".
She responded by referring to her previous speeches setting out her negotiating goals, adding: "Those principles remain."
'Fundamental problem'
At the 14-15 December summit, European leaders will decide whether enough progress has been made in the negotiations so far to open trade talks.
Because the UK has said it is leaving the EU's customs union, the government is seeking an arrangement to avoid border checks at the border with the Republic of Ireland, which is an EU member.
On BBC Radio 4's Today programme, Jonathan Powell, who was an adviser to Tony Blair during the Northern Ireland peace process, doubted whether a solution could be found.
The "fundamental problem", he said, was that "if you have a different customs policy you have to have a hard border… otherwise why would any country have a border?"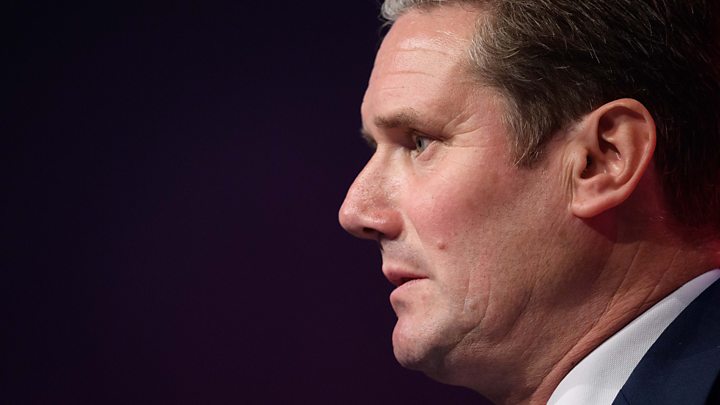 UK ministers say technological solutions and alignment of regulations with the EU in certain areas can avoid the need for border checks.
Labour says the option of staying in the EU's customs union long-term should be kept "on the table" in negotiations and has criticised the government for ruling this out.