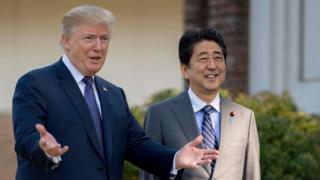 US President Donald Trump and Japan's Prime Minister Shinzo Abe meet shortly to discuss North Korea and trade, with both men battling pressure at home.
The Japanese leader's visit to the Mar-a-Lago retreat is his second since the US president took office last year.
Mr Abe faces cronyism claims, while Mr Trump is fighting an investigation into alleged Russian meddling in elections.
Washington's tough stance on trade and plans for talks with North Korea appear to sideline Japan, despite close ties.
The Japanese prime minister has repeatedly sought to portray a close personal relationship with Mr Trump and was the first foreign leader to meet him in New York after his election victory.
He visited the US president in his Florida golf resort in 2017 and the pair have since also met in Japan.
A special relationship?
But Washington's policies since have put pressure on what is meant to be a special relationship.
On North Korea, Mr Trump surprised the international community by accepting a suggestion by Pyongyang for direct talks with Kim Jong-un.
While details of those talks are still uncertain, it is an unprecedented step by a sitting president to meet a North Korean leader.
And for Japan it means that it will be watching from the sidelines as Pyongyang embarks on a whole flurry of bilateral talks – aside from the US, the North is also talking to Beijing and South Korea.
Observers say Mr Abe's goal for his US trip will be to persuade the US president as much as he can not to sway from the West's hard line on Pyongyang.
The second big issue on the table will be trade.
The Trump administration's America First policy has already led to Washington leaving the TPP trade deal with Asia and the latest trade tariffs are also expected to hit Japan.
While the US has exempted some countries from the tariffs, it has not done so in the case of Japan – meaning that the prospect of a global trade war will make Tokyo understandably nervous.
Policy makers in Japan are finding it as hard as everyone else to discern Mr Trump's intentions.
Late last week Mr Trump suddenly floated the idea of maybe joining the TPP after all, as if to highlight how quickly and unexpectedly his policies change.
Trouble at home
Both leaders though are in need of some good headlines.
While Mr Trump is engulfed in the Russia investigations and allegations over affairs with adult actresses and models, things are also rocky for Mr Abe.
The Japanese prime minister is accused of cronyism in a corruption scandal dating back to 2017.
The allegations centre around the sale of government land at below market price to a controversial nationalist group of Abe supporters.
Last month, Mr Abe told parliament that he did not play any role in an alleged cover-up of the land deal.
The scandal has seen the prime minister's approval figures slump, with polls over the weekend putting his rating as low as 30% to 40%.
His largest asset has for a long time been that Japanese voters saw him as carrying reliable weight on the international stage.
Should the US visit not help to counter that perception, the calls for his resignation are likely to get louder.