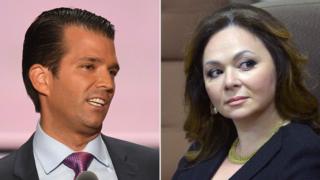 A Russian-American lobbyist also attended a meeting last year that has embroiled President Donald Trump's son in the Russia inquiry, it has emerged.
Rinat Akhmetshin told AP news agency he went to the meeting at which Donald Trump Jr was promised Kremlin-linked material about Hillary Clinton.
"I never thought this would be such a big deal, to be honest," Mr Akhmetshin told the AP.
Congress is asking the president's son to publicly testify about the meeting.
Emails show Mr Trump Jr, together with the president's son-in-law, Jared Kushner, and campaign chairman Paul Manafort, met Russian lawyer Natalia Veselnitskaya, who had reported ties to the Russian government, on 9 June 2016.
Emails show the encounter was arranged under the premise that Ms Veselnitskaya would share damaging information about Mrs Clinton, Mr Trump's Democratic party rival for the White House.
Mr Trump Jr said it later became apparent that Ms Veselnitskaya wanted to discuss a suspended programme for Americans to adopt Russian children.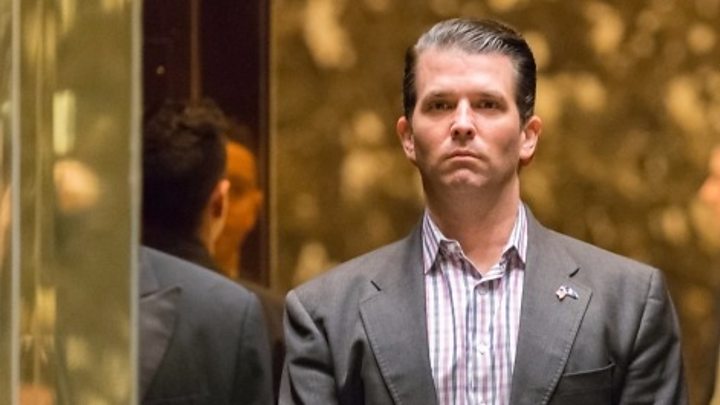 Congressional and federal investigators are scrutinising alleged Russian meddling in the US election.
Since he was elected, President Trump has been dogged by allegations that Russia tried to sabotage Mrs Clinton's campaign to help him win.
He has rejected any knowledge of this and Russia has also repeatedly denied interfering.
During a news conference in Paris, Mr Trump defended his son, saying he was merely attempting to collect opposition research and that "most people would have taken that meeting".
"Nothing happened from the meeting. Zero happened," Mr Trump insisted.
Mr Akhmetshin has previously denied reports that he worked for Soviet military intelligence, which he would have had to disclose when applying for US citizenship.
"I am an American citizen since 2009 who pays taxes, earned his citizenship after living here since 1994, and swore an oath of loyalty to the United States of America," he previously told Radio Free Europe-Radio Liberty in an email.
Mr Trump Jr's lawyer, Alan Futerfas, told the Hill, a Washington DC politics news outlet, that the lobbyist had been introduced during the meeting as a friend of Ms Veselnitskaya.
The lawyer said: "Basically he helped translate because Natalia's English is not that good.
"He's a US citizen. All I can say is Trump Jr. met him for the first time and learned his name minutes before the meeting and he was introduced as a friend."
Mr Futerfas denied the lobbyist worked for the Russian government.
The meeting at Trump Tower was set up by Rob Goldstone, a British music publicist for Russian pop star Emin Agalarov.
Mr Agalarov worked with Donald Trump Snr on staging the Miss Universe pageant in Moscow in 2013.
Mr Goldstone emailed Mr Trump Jr to advise him that "two people" would attend the meeting to provide information that is "part of Russia and its government's support for Mr Trump".
Ms Veselnitskaya earlier this week told the New York Times she had been joined by a translator, without naming the person.