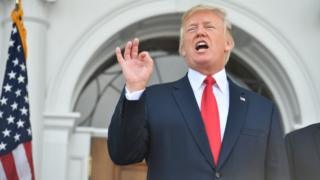 US President Donald Trump has warned North Korea it should be "very, very nervous" if it does anything to the US.
He said the regime would be in trouble "like few nations have ever been" if they do not "get their act together".
His comments came after Pyongyang announced it had a plan to fire four missiles near the US territory of Guam.
Tensions between the two countries have escalated in recent weeks after North Korea tested two intercontinental ballistic missiles (ICBM) in July.
The UN also approved further economic sanctions against Pyongyang as a result of its nuclear weapons programme.
Speaking on Thursday at his golf club in Bedminster, New Jersey, Mr Trump also offered an olive branch, saying the US would always consider negotiations.