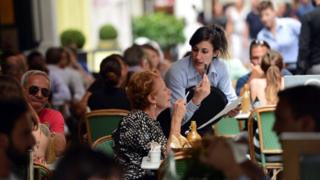 UK unemployment fell by 3,000 to 1.44 million in the three months to November, official figures show.
The number of those in work increased sharply and wages rose at their fastest rate in almost a year, the Office for National Statistics said.
That leaves the UK's unemployment rate at a four-decade low of 4.3%.
But the growth in wages at 2.4% remained below inflation at 3.1% in November, leaving real wages lower for than a year earlier.
"Demand for workers clearly remained strong," said ONS statistician, David Freeman.
"Nevertheless, inflation remains higher than pay growth and so the real value of earnings continues to decline."
The pace of job creation was faster than economists had predicted. The ONS said the number of people in work rose by 102,000 in the three months to November, taking total employment to a record 32.2 million.
Higher consumer price inflation, due to weaker sterling, has left real pay 0.5% lower than a year earlier, but rising wages are beginning to close the gap.