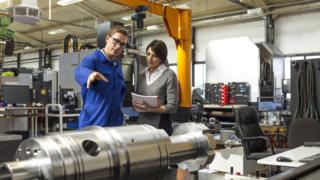 The number of people in work in the UK has seen its biggest fall in the past two years, but unemployment also fell.
There were 32 million workers in the three months to September, down 14,000 from the last quarter, Office for National Statistics data shows.
At the same time, the number of jobless – those people not in work but seeking a job – fell 59,000 to 1.42 million.
Workers' earnings, including bonuses, rose 2.2% compared with a year ago, which still lags inflation of 3%.
The simultaneous drop in the number of workers and unemployed people is due to the rise in people who are classed as "economically inactive" – those not working and not seeking or available to work.
This includes people studying, looking after family or home, long-term sick, or retired, and rose by 117,000 to 8.8 million over the quarter.
Matt Hughes, a senior ONS statistician, said employment had declined after two years of "almost uninterrupted growth".
The last time there was a bigger fall in employment was in April to June 2015, when the number of people in work dropped by 45,000, according to the ONS.
Mr Hughes said: "But there was a rise in the number of people who were neither working nor looking for a job – so-called economically inactive people."
The unemployment rate remained steady at 4.3%, and down from 4.8% a year earlier.
Separate ONS data showed a bright spot for productivity, which increased by 0.9% in the latest three months – the strongest growth rate for six years.
But this follows a prolonged period of weak productivity since the financial crisis.
ONS head of productivity Philip Wales said: "The medium-term picture continues to be one of productivity growing – but at a much slower rate than seen before the financial crisis."
---
Productivity: A volatile measure
By BBC economics editor Kamal Ahmed:
Any port in a storm, but it is sensible to put today's leap in productivity in context.
After six months of negative figures (-0.5% January to March, -0.1% April to June), today's +0.9% jump in productivity is undoubtedly better news.
But it would need at least two more quarters of similarly positive numbers to discern whether this is just normal quarter-by-quarter volatility or the first signs that the productivity slump might be starting to turn.
The ONS measures productivity by dividing the number of hours worked by what is called Gross Value Added, the value of goods and services produced by the UK economy.
It has leapt this quarter because working hours have fallen slightly and economic growth is higher.
Whether we are actually producing more per hour worked – the key to wealth creation and better wages – will only become clear over the next six months.
---
And with inflation at a five-and-a-half-year high of 3% in October, pay is failing to keep up with higher prices.
In real terms, wages have fallen by 0.5% in the past year – the seventh month of lagging behind inflation.
Minister for Employment Damian Hinds insisted the figures showed the "strength of the economy".
"A near-record number of people are now in work," he said. "Everyone should be given the opportunity to find work and enjoy the stability of a regular pay packet."
The CBI's head of employment, Matthew Percival, thought the rise in productivity was "encouraging".
He said: "Businesses will be looking for the chancellor to cement progress in next week's Budget and maintain flexibility in the labour market, which remains a mainstay of the UK economy."