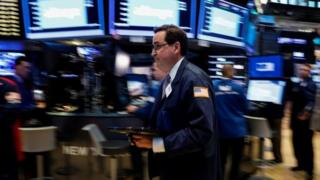 US stocks saw their largest losses since May on Thursday, as tension mounted between North Korea and the US.
Pyongyang, which has threatened to fire missiles toward the US Pacific island territory of Guam, gave more details of its plans.
Meanwhile, President Donald Trump intensified his rhetoric, saying North Korea should be "very, very nervous" if it does anything to the US.
The Dow Jones fell 0.9% to 21,844.01 and S&P 500 fell 1.5% to 2,438.21.
The Nasdaq lost 2.1% to 6,216.87.
"If the North Korean situation worsens… I would expect the stock market to react negatively," said Richard C Marston, of the Wharton School of finance.
"Corporate earnings can be easily overshadowed if there is a real threat of a conflict."
'Not tough enough'
Mr Trump earlier this week said North Korean would be met with "fire and fury" if it continued to threaten the US.
Some criticised the comments for being too provocative, however on Thursday he told reporters: "Maybe that statement wasn't tough enough".
Markets had been bracing for a correction after weeks of record highs. The sell-off was widespread, with shares in financial and consumer companies leading the declines.
Two big retailers saw their shares fall rapidly after they announced results this morning.
Macy's has been cutting costs and closing stores. It saw a surprising rise in its profits, but its shares dived 10%.
Its big rival Kohl's said sales in its stores that had been open more than a year had fallen, and its shares were down 5.8%.