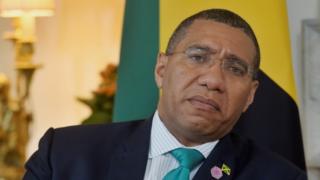 Jamaica's prime minister has welcomed Theresa May's commitment to ensure the Windrush generation will not be deported over paperwork issues.
Andrew Holness told Mrs May he looked forward to "a speedy implementation of your proposed solution".
He said it was "only fair" that people who had "significantly contributed" to the UK should be allowed to "take their place" as citizens.
Mrs May is meeting Commonwealth leaders later to discuss her proposals.
The UK government has apologised after it emerged that some people who arrived from the Commonwealth decades ago as children were now being incorrectly identified as illegal immigrants.
The home secretary has announced a new taskforce to help those affected.
In a letter to the leaders of 12 Commonwealth nations, the UK government has expressed "regret" for the anxiety caused by the actions of Home Office officials and promised there will be "no removals or detentions".
The letter, signed by immigration minister Caroline Nokes and Commonwealth minister Lord Ahmed, also promises no one will be left out of pocket by demands for documentation to prove their right to remain in the UK.
Mrs May had earlier watched as Mr Holness was cheered by the audience at the Commonwealth Heads of Government Meeting, as he told them: "As the case now stands and as history will show, citizens of the former colonies, particularly the West Indies, migrated to Great Britain, where they have significantly contributed to the building and enrichment of the country.
"Now these persons are not able to claim their place as citizens.
"Prime minister, we welcome your response and we look forward to a speedy implementation of your proposed solution.
"It is only fair and will lead to security certainly for those who have been affected. And it is the kind of inclusive prosperity for which we stand as Commonwealth peoples."
Cabinet Office minister David Lidington earlier said the government knew of no cases where British residents of the "Windrush generation" from the Caribbean had been deported because of their lack of documentation.
But he said officials were checking records to make sure nothing had "gone appallingly wrong in that way".
But Labour's David Lammy, who has led calls for action on the issue, tweeted that he had been made aware of a man who is due to be deported on Wednesday because he did not have the correct paperwork.
On Monday, Mr Lammy described the government's apology to the Windrush generation as a "day of national shame".
The Tottenham MP said it was "inhumane and cruel" that it had taken the government so long to act on the cases of those who arrived legally as children on their parents' passports but have never had their own passport.
Cases have emerged – such as these in the Guardian – of people who have lost their jobs, rights to health and benefits and faced deportation despite being able to show they have paid tax and National Insurance for decades.
On Monday the prime minister reversed her decision not to meet Commonwealth leaders to discuss the Windrush issue, which was raised by MPs from across the House of Commons in an urgent question session.
Home Secretary Amber Rudd accepted it was "appalling" that some of the Windrush generation faced deportation and promised they would be helped to attain the required documents for free. She added that she was concerned her department "sometimes loses sight" of individuals.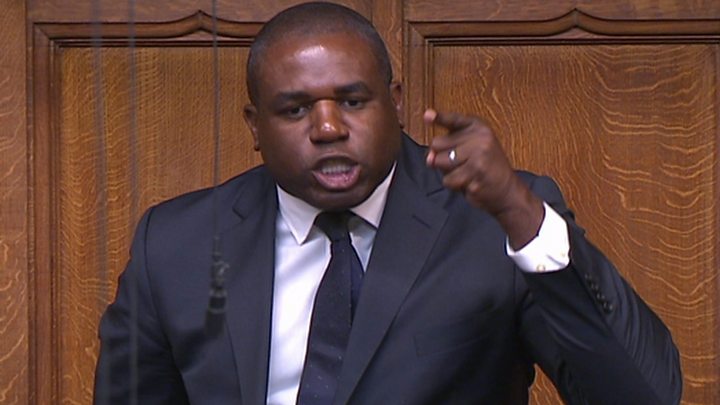 Thousands of people arrived in the UK as children in the first wave of Commonwealth immigration 70 years ago.
They are known as the Windrush generation – a reference to the ship, the Empire Windrush, that brought workers from the West Indies to Britain in 1948.
Under the 1971 Immigration Act, all Commonwealth citizens already living in the UK were given indefinite leave to remain.
However, the Home Office did not keep a record of those granted leave to remain or issue any paperwork confirming it, meaning it is difficult for the individuals to now prove they are in the UK legally.
Changes to immigration law in 2012, which requires people to have documentation to work, rent a property or access benefits, including healthcare, has highlighted the issue and left people fearful about their status.
Sonia Williams, who came to the UK from Barbados in 1975, aged 13, said she has had her driving licence withdrawn and lost her job when she was told she did not have indefinite leave to remain.
"Sometimes I just want to give up," she told BBC Newsnight, saying that she felt "stressed" and "numb".
"I came here as a minor to join my mum, dad, my sister and my brother," she said.
"My mum's got citizenship, my dad had right to remain. So I just presumed I had all that."
The Home Office said it would get in touch with Ms Williams.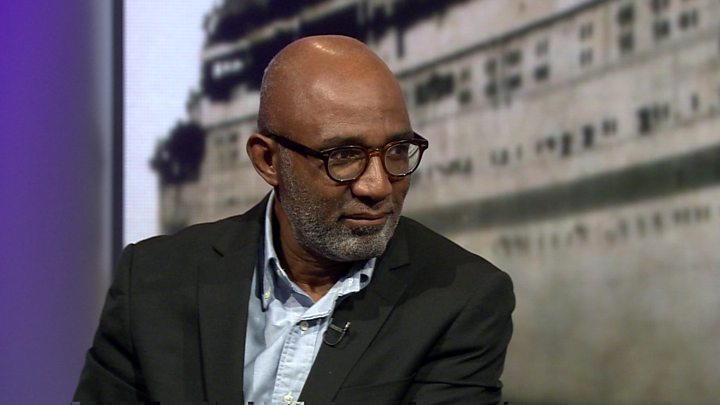 Shadow home secretary Diane Abbott said the government should consider compensation for anyone who had been wrongly deported.
A Home Office spokeswoman said that any people who believed they or a family member had been wrongly deported should get in contact so their case could be reviewed.
The Migration Observatory at Oxford University estimates there are 500,000 people resident in the UK who were born in a Commonwealth country and arrived before 1971.
People born in Jamaica and other Caribbean countries are thought to be more affected than those from other Commonwealth nations, as they were more likely to arrive on their parents' passports without their own ID documents.
Are you a member or descendant of the Windrush Generation – or did you arrive in the UK from another Commonwealth country as a minor between 1948-1971? We'd like to hear from you via email haveyoursay@bbc.co.uk.
Please include a contact number if you are willing to speak to a BBC journalist. You can also contact us in the following ways: